Pest Control Marketing
After all this time we have become very familiar with the items you need to market your pest control business, grow your customer base and increase sales. See our flyers below.
Direct Mail
Door Hangers
Postcards
Thank You Cards
Promotional Items
Signage & Display
and more...
Pest Control Company Operations
We are also familiar with all of the items you need to keep your business going. From labels that stick to forms to professional service logbooks that keep you prepared for inspections. See our flyers below.
Business Forms
Checks
Labels
Service Logs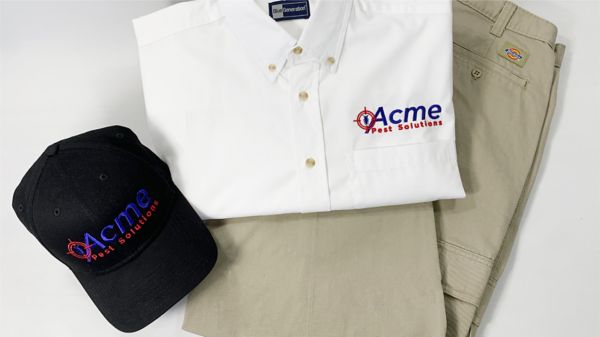 Save Money on Pest Control Uniforms!
We offer a direct-purchase uniform and workwear program for the pest control industry. We provide our clients with safety, style, and function with exclusive access to brands like Carhartt, Red Kap, Tingley, Nike and Adidas.
Pestech Pest Solutions has been using KProSource as our primary resource for printed materials for many years. We have been continually impressed with Rachel, her team, and their understanding of the pest management industry. The quality of their work and the very high level of customer service we have consistently received has been second to none. When they re-designed our logbook we got so much positive feedback from customers that we not only had requests for referrals to KPro, but our business development team began incorporating the log book into our sales material, where it is still currently getting us positive feedback from prospective clients. We would feel more than comfortable recommending KProSource to any other pest management organization that is looking for a positive and productive partnership.
Mark Davidson, MBA, MSIS, ACE

Pestech Pest Solutions
You can't beat the variety, the customer service, and the Can-Do attitude that KProSource brings with their uniform program.
Sallie Lawrence

Sprague Pest Control